Kidnapped my Mr. Destructoid. Send cooks!
Staff member
Robot
You may expecting Papa Niero, but it is I, EricW!
Remember that shirt we announced a few days ago? (I will just assume you read the title).
We ended with two drafts that you can see below! We wanted to hear your feedback, after all, it is a community shirt!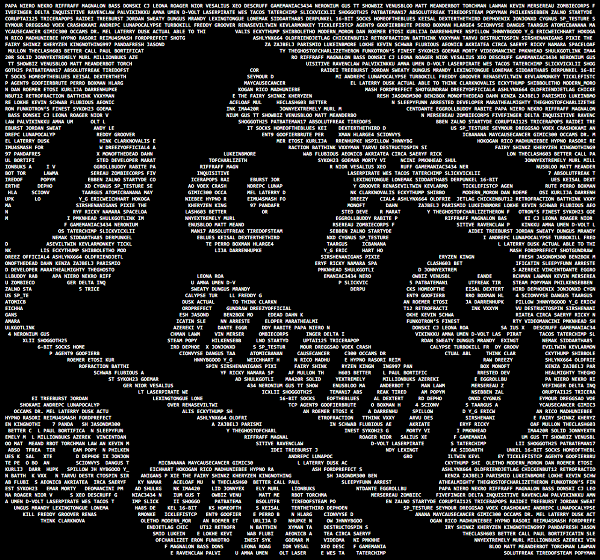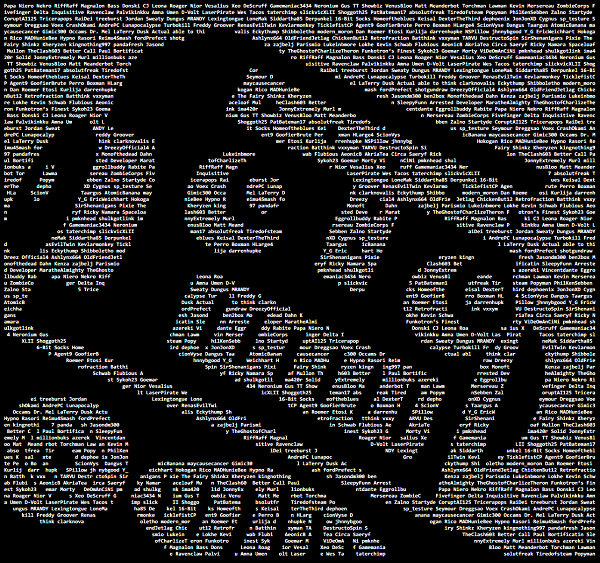 It just need a few touche before it is finished, but it looks good, right? Thanks to our current tools, a lot of time was saved too!
HOWEVER...
An idea was introduced just recently: What if we use Destructoid's font instead? I said, sure, but there is a small problem: current tools won't work on a non-monospace font.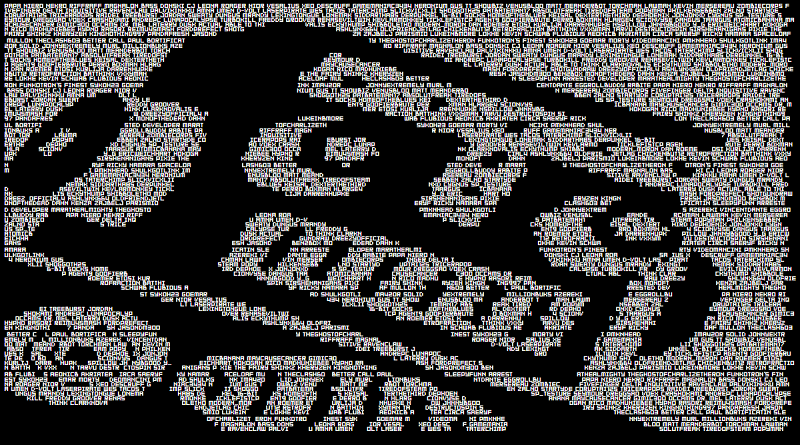 Looks ugly right? Still, the idea is cool and we wanted to hear your opinion!
However, the Destructoid's font requires to do stuff... manually. That means the shirt will be delayed a bit, since the smallest fix could require restarting.
So the idea is to hear your feedback, and give you a choice:
Hurry up, I like the design
We can wait, love me harder
I can make a poll if you want, but that would add a "wait till poll closes" delay.
UPDATE!
This is the list of names we got. Be sure there are no typos!

Papa Niero
Nekro
RiffRaff
Magnalon
Bass
Donski
CJ
Leona
Roager
Nior
Vesalius
Xeo
DeScruff
Gamemaniac3434
Neronium
Gus TT Showbiz
VenusBloo
Matt
Meanderbot
Torchman
Lawman
Kevin Mersereau
ZombieCorps
Fivefinger Delta
Inquisitive Ravenclaw
Palvikinkku
Amna Umen
D-Volt
LaserPirate
Wes Tacos
taterchimp
slickvicXLII
Shoggoth25
PatBateman17
absolutfreak
Tiredofsteam
Popyman
PhilKenSebben
Zalno
Startyde
CoruptAI125
Tricerapops
RaiDei
treeburst
Jordan
Sweaty Dungus
MRANDY
Lexingtongue
LoneMak
Siddartha85
Derpunkel
16-Bit Socks
Homeoftheblues
Keisal
DexterTheThird
dephoenix
JonJonXD
Cygnus
sp_testure
Seymour
Dreggsao
Voex
CrashOkami
AndrePC
Lunapocalypse
Turbokill
Freddy Groover
RenasEvilTwin
Kevlarmonkey
TicklefistCP
Agent9
GoofierBrute
Perro
Boxman
HLarge4
ScionVyse
Dangus Taargus
AtomicBanana
maycausecancer
Gimic300
Occams
Dr. Mel
LaTerry
Dusk Actual
able to think
clarknovalis
Eckythump
Shibboletho
modern_moron
Dan Roemer
Etosi
Kurlija
darrenhupke
NSPillow
jhnnybgood
Y_G
EricWeichhart
Hokogan
Rico
MADHunieBee
Hypno
Rasori
Reimu4Smash
fordPrefect
shotgundraw
DreezyOfficial4
Ashlynx664
OldFriendJetlag
ChickenBut12
Retrofraction
Batthink
vxxyman
TARVU
DestructoSpin
SirShenanigans
Pixie The Fairy
Shinkz
Kheryzen
kingnothing997
pandafresh
Jasondm300
ben2box
Monofthedead
Dahn
Kenza
zajbelj
Parismio
Lukeinbmore
Lokhe
Kevin Schwab
Flubious
AeonicB
AkriaTea
Circa
Saeryf
Ricky Namara
Spaceloaf
Mullon
TheClash603
Better Call Paul
Bortificatin
SleepyFunn
Arrested Developer
MaratheAlmighty
TheGhostofCharlizeTheron
Funkotron's Finest
Sykoh23
Goemar
Morty
ViDeOmAnCiNi
pmknhead
shulkgotlink
ima420r
Solid
JonnyExtremely
Murl
millionbuks
azereki
Vincentdante
Eggrollbuddy
Rabite

Last edited: